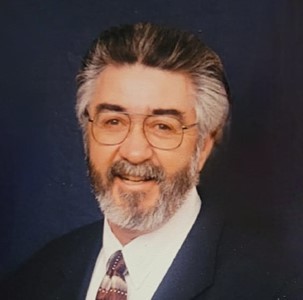 A funeral Mass for Roman Garcia will be held on Wednesday, August 2nd, 2023 at 11:00 AM at Saint Jude Catholic Church. Reception to follow in the Community Center Lower level. A Rosary will be held Tuesday, August 1st at 7:00 PM at St. Jude Catholic Church.
Roman joined the angels after a long battle with Alzheimer's disease.  He was preceded in death by his parents Max and Matilda Garcia and wife Helen Garcia.  Survived by wife Mary Garcia, son Daniel Garcia (Lorraine), daughters Lorraine Lopez (Isaac), Linda Garcia (Danny), Tammy Lopez (John), Tabatha Pott (Shane), Tanya Cleres (Brian) along with 18 grandchildren and 30 great grandchildren.
Roman led a full and loved life from the years in Globeville living in boxcars his loving father turned into a home.  He was an only child and although they lived in a boxcar, he did not want for anything.  Roman attended St Joseph Polish church and school where was an altar boy and then went on to Annunciation where he graduated in 1958.  Through the years he worked at the flour mill where he became involved with the labor movement and first became a steward to then CEO of the largest Teamster local #435 in the Western US.  During his years as Secretary Treasurer for local #435, he was named Man of the Year by Labors Community Agency and received numerous awards and recognition.  Upon retiring from the Teamsters, he was appointed by the Honorable Mayor Wellington E. Webb as his Labor Liaison for the City and County of Denver, a position that he was so honored to hold and was his first true introduction to politics. He also held a seat on the Board of Directors of Metro Waste Reclamation District.
After his tenure with the Webb administration, he then truly retired at the age of 63 and spent the rest of his days doing his favorite things, GOLF, playing pool, traveling the world and most important to him, spending time with his family.  He will be missed by many, but none more than his family.